Par Peter, le Thursday 31 March 2011 - iTCG
A new trophy is available until Thursday the 7th of April 2011 at 9.00.
You are limited in time so don't waste any :).
Win 15 games against different players having the sum of your characters' levels inferior to the sum of the opposing characters' levels.
You will win the Guardian-Apprentice title and the card Mix-up.
Mix-up : Action. Unique. Collector. The moment this card is played and at the start of each fight, your character gains Attack +1 for each of your tapped characters still alive and Defense +1 for each of your untapped characters still alive. Permanent.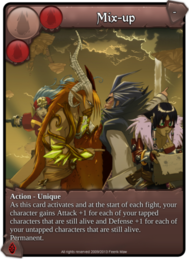 Update:
Marketplace: In order to optimize the marketplace and fight against card resales by multi accounts which is currently unbalancing the game, an important modification has been made. Now, only the 6 cheapest copies of one card will appear. Example :If 7 "Discretion" cards are up for sale and 6 among them cost 100 crystals and 1 costs 150 Crystals, only the "100 crystal" cards will be visible on the Marketplace.
Trophies: Progressive trophies are now visible for all levels, this will enable you to have knowledge on the challenges ahead!
Have fun!
Eredan iTCG
, the trading card game.
Find this also
Facebook
!