Par Eredan, le Thursday 28 July 2016 - iTCG
02/08/2016 Release
New cards are coming to Eredan iTCG today!
(3 evolutions in all)
Rare
Class: Mage
Guild: Nehantist
Races: Human, Time Guemelite, Demon
Spirit: 2
Attack: 0/0
Defense: 2
Health points: 16
Effects:
Attack +1 until the end of the game and heal 2 Health points each time a Demonic Servant is activated.
The number of the current turn increases by 1 each time a Corruption is activated.
Odd Turns: Defense +1 and a Corruption from your Hand is played at random.
Even Turns: Attack +X where X equals the number of the current Turn (max. 10).

Pre-constructed Deck: Korpus
For this release, a pre-constructed deck has been created after a concept from "Senshui".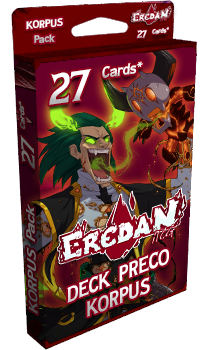 This Deck of 27 cards (containing 5 Rares and 11 Uncommons), including Korpus, is now available for 999 Fee'z in the store, thanks to a 50% discount lasting until 11:59 (CET) on Sunday.
Afterwards, the pre-constructed deck "Korpus", will be available for 1999 Fee'z in the "Deck" section of the store.
All cards of this pre-constructed deck are playable in Standard format Tournaments.
Reedition
Ripper
Demon's horns
Tiredness
Demonic axe
Blackness
Submerge
Patch
Changes brought to the cards are colored.
Rare
Action
Nehantist
Effects:
A "Demonic Servant" is created and attached to each petless character.
For each "Demonic Servant" created this way, one of your characters has

max. Health -3 to -4

.
Chain

Nehantic

Spell.

Common
One handed Axe
Nehantist, Demon
Effects:
Duration: 3 Fights.

Dual Wield.

Chain "Demonic Explosion".


As this card activates and at the start of the Fight, X equals the amount of Demonic Servants in play. Your opponent has Attack -X and Defense -X until the end of the Turn.


Warrior: Attack +X until the end of the Turn.



Uncommon
Item Other
Nehantist
Effects:
Permanent. Chain.


Attacker:

Attack

+1

for each Demonic Servant in play.
Defender: Defense +1 for each Demonic Servant in play.
Sacrifice 1: Your other Demons gain Attack +1 until the end of the game.

These cards are now available in the Newcomers Booster.
Have fun!