Par Eredan, le Tuesday 31 January 2012 - iTCG
Battle of the guilds
Glory to Dragon!! Glory to Dragon!!
Congratulations to Noz'Dingard Envoys: they win this first Battle of the Guilds against to Sap Hearts. Burning, stake of this battle is now affiliated to Noz'Dingard Envoys guild. Moreover, from today to Tuesday February 7 at noon (French Hour), -30% discount for the Noz'Dingard Envoys Booster!
Burning. Rare. Noz'Dingard Envoys. Item Two handed Sword. Unique. Attack +3. Your Warriors have Defense +1 and your Mages have Spirit +1. At the beginning of the fight your character suffers 1 to 2 direct damage points. Duration: 3 Fights. Activates after the fight and cannot be activated immediately.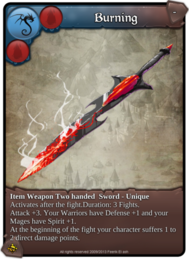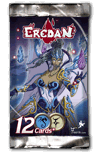 Patch note January 31, 2012
- The display of the gauge of the battle of the guilds has been improved to make its comprehension easier. The card now follows the cursor to show the side which is taking the advantage. The calculation of the battle points could be changed for next card releases.
- A bug which affected the attack bonuses give by the Stone King to other Warriors has been fixed.
- A bug in Azure card has been fixed.
Eredan iTCG
, The Trading Card Game.
Find the game also on
Facebook !