Par Eredan, le Tuesday 31 July 2012 - iTCG
Congratulations to the Sap Heart who won against the Nehantists!
Thanks to this victory, the card Corrupted, at stake during this battle is affiliated to the Zil Warriors.
Corrupted. Rare. One handed Weapon Sword Item. At the start of the game, if all your characters are Warriors, "Corrupted" is placed in your Hand. Permanent. Attack +2 and -1 to magic and physical damages suffered. As this card activates, if your next card is a Weapon, it will activate immediately and the next opposing card is ignored.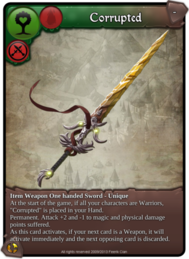 Here is the list of brave warriors who have won a copy of "Corrupted":
ffrancois, Timeria, odjn, Luca_Mercuri, Modred, apokalypto80, Christian_Kirtash, shadowsrose, Colico_Salvatore, Mitrandia, CalicoDan, sterile, Michael_Andre, uaxa, yannsolo2001, Matias_Zola, Verinen Himo, bluecristal, Cristian_Moya_Barahona_Vergara, Criyo
Enjoy the Game!
Eredan iTCG
, the Trading Card Game.
Find it also on
Facebook !