Par Eredan, le Friday 31 May 2013 - iTCG
Players who haven't completed the trophy: The Demon of Time, can now access it from the Eredan iTCG store.
Cumulate 50 points. You earn 1 point each time you kill an opponent character who has Denfense 0. You must play against different players.
You will earn the card named Demon of time and the title: The Demon of Time.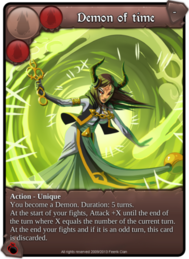 Demon of time: Action. Collector. Unique. You become a Demon. Duration: 5 turns. At the start of your fights, Attack +X until the end of the turn where X equals the number of the current turn. At the end your fights and if it is an odd turn, this card is discarded.