Par Eredan, le Friday 31 December 2010 - iTCG
A new Trophy in stores.
Players that did not succeed in winning the Trophy
The Timeless One
, can now buy it in stores now!
You will have to win 50 games against different players in 6 turns or less.

You will obtain the card Tempus Fugit: Action, Unique, Collector. The opposing character has Attack -X where X equals the current Turn number. (Attack -4 maximum)

Good luck!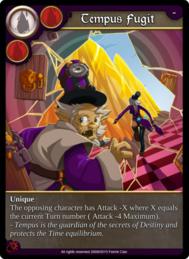 Eredan iTCG
, the online trading card game.
Find this also on
Facebook !