Par Peter, le Tuesday 31 May 2011 - iTCG
The Man Hunt
The Arc-Kadia, the famous Al killicrew ship is seriously damaged and only one person is capable of repairing it. This man that many call the preacher was in fact an old crew member but has moved on and no one has heard from him since.... The crew also saw an old comrade of theirs: Hook... The miserable old man was abandoned and left to rot but wishes to redeem himself by helping the captain find the preacher, the captain was ready to give him a second chance.
This is the start of a great adventure, let the man hunt begin!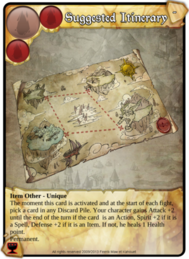 This event will close on the 7th of June 2011, at 10.00 (french time)!
You will notice the map instead of the traditional Eredan iTCG logo on your interface. This is indeed the starting point for an epic Man Hunt. There are some precious chests on each Island, this will certainly encourage and motivate your crew yarrrggg! It's up to you to find the keys, the missing preacher and repair your precious ship, the Arc-Kadia!
Want to go faster? Want to win the lottery or some cards? You will find the Key card in every booster you purchase until the event closes.
A chain of trophies are available during this Man Hunt. Once you have completed all of the Man Hunt Trophies, you will win a
These trophies are repeatable, this gives you the opportunity to win more rewards!
By exploring the map, you will have the opportunity to unlock some chests that will contain diverse rewards. In order to open a chest , you will need keys that you can get via boosters or by completing certain trophies. If you happen to open all of the chests in-game, you will get the card Suggested Itinerary.
Suggested Itinerary : Feat, Unique, Item other. The moment this card is played and at the start of each fight, pick a card in any Discard Pile. Your character gains Attack +2 this Turn if the card in question is an Action, Spirit +2 if it is a Spell, Defense +2 if it is an Item. Otherwise, heals 1 Health point.
When the event ends, we will randomly make a draw amongst all of those who earned the card Suggested Itinerary"
First : 15000 Fee'z
Second : 5000 Fee'z
Third : 2000 Fee'z
50 others players randomly drawn amongst all of those who opened one chest or more will receive: 1 booster act II + III.
Have fun and good hunting!
Eredan iTCG
, the online trading card game.
Find this also on
Facebook
!