Promo + New trophy in store!
Par Peter, Friday 13 May 2011 à 10:57 - iTCG - #198 - rss
Promo.
Find the following promos until Monday the 16th of May 12.00 (Paris time):
An XP card in each booster.
-30% on Basic and Premium boosters.
-20% on Guild boosters.
-20% on "Play Now" Decks.
A new Trophy in store.
Players that did not complete
The Kehperan trophy
can now purchase in the
Eredan iTCG
store.
Win 10 games by killing the opposing characters without putting one character below -4 HP.
You will win the Kehperan title and the card "Summoning Kehper".
Summoning Kehper : Theurgy. Unique. Collector. If one of your characters dies and his Health points are below -4, he heals until his Health points equals -4. Permanent.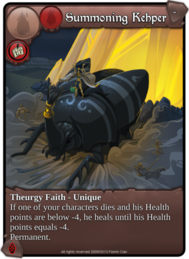 Have fun!
Eredan iTCG
, the online trading card game.
Find this also
Facebook !