Par Peter, le Friday 29 April 2011 - iTCG
A new Trophy in store.
Players that didn't get the chance to complete
The Chaplain Trophy
, can now purchase it in the
Eredan iTCG store
.
Play 15 games by casting at least one theurgy from each 3 types (Divine Anger Theurgy, Faith Theurgy, Destiny Theurgy)..
You will win the The Chaplain title and the card: Quest of the Thunder King.
Quest of the Thunder King : Action. Unique. Collector. All characters are untapped at the end of this round..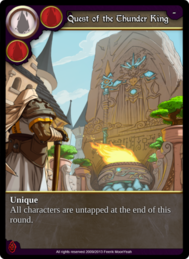 Have fun!
Eredan iTCG
, the online trading card game.
Find this also on
Facebook !