Par Eredan, le Friday 29 June 2012 - iTCG
Dragon Sacrifice
A new trophy is available from now on and until Thursday July 5th at 9:00 AM (French time)
You can take part in the trophy during that precise lapse of time, after that it will not be possible anymore. You can also buy this trophy for 199 Fee'z and acquire the title and the card associated with it.
To obtain it you will have to cumulate 200 points.

At the end of each game, you earn 1 point for each card in your Hand after the last draw phase.
You earn 12 additional points if you Hand contained more than 6 cards at least once.
You earn 10 points if you play: The Seal, The other side of the coin or Break the third chain. (Each card will be taken into account once).
You must play against different players.
You will earn the card Dragon Sacrifice and the title: The Orphan.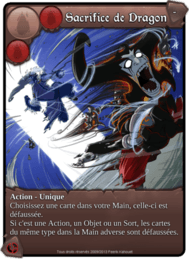 Dragon Sacrifice : Action. Collector. Unique. Choose a card in your Hand, it is discarded. If it is an Action, an Item or a Spell, the same kind of cards in the opposing Hand are discarded.
Enjoy the game!
Eredan iTCG
, The Trading Card Game.
Find it also on
Facebook !