Par Eredan, le Tuesday 31 January 2017 - iTCG
01/02/2017 Release
New cards have been released on Eredan iTCG!
All the following cards have from now on a Damned and Sacred evolution.
(3 evolutions in total)
Rare
Class: Warrior
Guild: Nehantists
Races: Demon
Spirit: 1
Attack: 6/6
Defense: 3
Health points: 16
Effects:
When one of your other Demons suffers damage from your allies, Big Daddy gains Attack +1 until the end of the game (max +6).
When Big Daddy deals damage to an opposing out-of-combat character, he has Attack -1 until the end of the game.
Turn 1, 3 and 4: Defense +2.

Super Pack
For this release, the Big Daddy Super Pack is available in store for a limited time!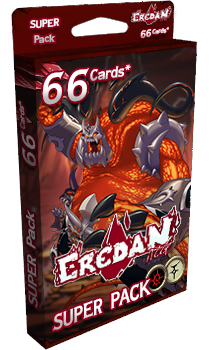 The Big Daddy Super Pack contains "Big Daddy" + 5 Standard Nehantist boosters, so 60 of the newest cards, from which 40 from your Guild and at least 5 Rare, 20 Uncommon and 5 Damned or Sacred as well as up to 5 additional Destiny XP cards!

Reedition
Gnarl
Eliminehantation
Bludgeon
Forbidden Nehantic books
Malefic gauntlet
Ecstasy
Patch
Changes brought to the cards are colored.
Rare
Action
Nehantist, Warrior, Demon
Effects:
The next opposing Action, Spell or Theurgy cards are discarded.
The opposing character has Attack -X for each card discarded this way and you suffer X direct damage points.
Uncommon
Magic Book
Nehantist
Effects:
Permanent. Spirit +1.
As this card activates and at the start of the Fight, the out-of-combat characters suffer 1 direct damage point.
At the end of the Turn, a card from the opposing Discard pile is removed from the game.
Chain.

Common
Clothing
Nehantist, Warrior, Marauder
Effects:
Duration: 3 Turns. The opposing characters have Attack -2 and Defense -1.
If "Hand of Death" is played after this card, a copy of "Hand of Death" is played after your other cards and your character suffers 3 direct damage points.
Chain Action.

These cards are now available in the Newcomers booster.
Have fun!