"of Compendium" now in store!
Par Peter, Friday 6 May 2011 à 12:32 - iTCG - #195 - rss
A new Trophy in store.
Those who did not have time to complete
the "of Compendium" trophy
, can now access it in the
Eredan iTCG
.
Play 15 games during which you must attach at least 2 Permanent Actions or Permanent Spells to each of your characters.
You will win the Compendium title and the card "Stone Ritual ..
Stone Ritual : Spell. Unique. Collector.Spirit +1. If this card is placed in the Discard Pile from play, all the opposing characters have Spirit -1 until the end of the game. Permanent. .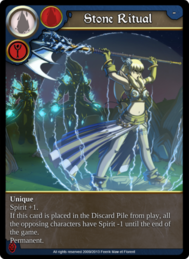 Have fun!
Eredan iTCG
, the online trading card game.
Find this also on
Facebook !