iTCG : The courtesans Ball
Par Eredan, Thursday 23 September 2010 à 16:43 - iTCG - #51 - rss
From today 4h30PM and up to Thursday 30 September 2010 at 9AM, a new trophy is available.
.
For this event, you will have to play 50 games against differents players with only level 1 characters in your deck. you will be able to win the title "The Courtesan" and the card "The Ball".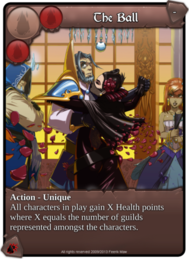 Updates and bug corrections :
Trophies errors due to the yesterday update have been fixed.
The bug causing the unability to add spell into a deck even i a gumélite of the good element was present has been fixed


Eredan iTCG, the online trading card game.
Find this also on Facebook !