iTCG : 6 Months already!
Par Eredan, Tuesday 12 October 2010 à 10:28 - iTCG - #62 - rss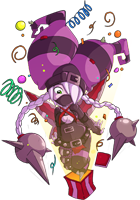 It's been 6 months since Eredan iTCG has launched. It is time for us to thank all of you for the tremendous support you have given us, we wouldn't be much if it wasn't for you guys, old and new players alike.
To celebrate this semi birthday party, we are offering to all players that have registered before the 12th of October 2010 at 10h00 (French time) the Pioneer trophy and a Destiny card of 100 XP.
Furthermore, An Xp Destiny card will automatically be given to you for any 12 Booster pack that you buy until the 13th of October 2010 at 10h00 (French Time).
We hope to continue to provide you with great characters and cards !
Good Gaming to all of you!
Eredan iTCG
, the online trading card game.
Find this also on
Facebook !