The Troublemaker in store
Par Eredan,
Strict Standards: Non-static method dt::str() should not be called statically, assuming $this from incompatible context in /home/eredan/blogus/inc/classes/class.blogpost.php on line 113

Strict Standards: Non-static method dt::_callback() should not be called statically in /home/eredan/blogus/inc/libs/lib.date.php on line 35

Strict Standards: Non-static method dt::_callback() should not be called statically in /home/eredan/blogus/inc/libs/lib.date.php on line 35

Strict Standards: Non-static method dt::_callback() should not be called statically in /home/eredan/blogus/inc/libs/lib.date.php on line 35
Friday 1 March 2013 à
Strict Standards: Non-static method dt::str() should not be called statically, assuming $this from incompatible context in /home/eredan/blogus/inc/classes/class.blogpost.php on line 126

Strict Standards: Non-static method dt::_callback() should not be called statically in /home/eredan/blogus/inc/libs/lib.date.php on line 35
10:32 - iTCG - #833 - rss
Players who haven't completed the trophy: The Troublemaker, can now access it from the Eredan iTCG store.
Tap or untap characters 50 times using the effect of your cards or characters. You must play against different players.
You will earn the card named The Door to the gods and the title: The Troublemaker.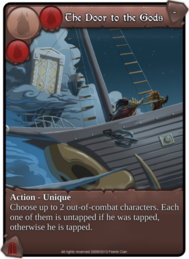 The Door to the gods: Action. Collector. Unique. Choose up to 2 characters out of combat. Each one of them is untapped if he was tapped, otherwise he is tapped.